From The Pastor's Desk
Dr. C. L. Easley was born and raised in Baltimore, Maryland, to the late Deacon Carl L. Easley, Sr., and the late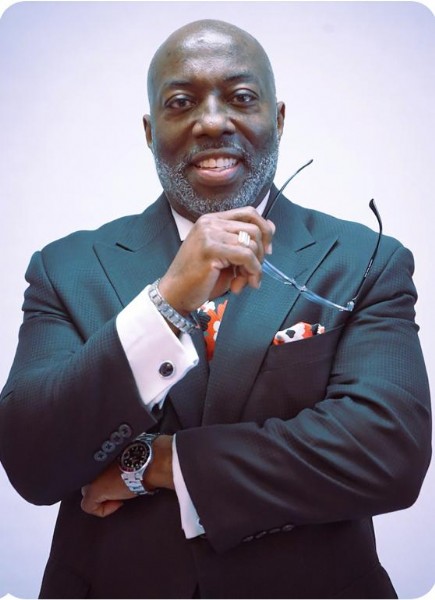 Deaconess Lillian H. Easley. He accepted Jesus Christ as his personal Savior and Lord and was baptized at the age of 12 at the Enon Baptist Church, under the leadership of the late Dr. Porter W. Phillips, Sr. He answered "the call" at the age of 21 to preach the Gospel and to lead and feed God's people. He was licensed to preach the Gospel of Jesus Christ at the Enon Baptist Church in 1985 and was ordained at the Mt. Olivet Baptist Church in Richmond, Virginia in 1989, under the leadership of Dr. Darryl F. Husband. He earned a Bachelor of Science degree in Accounting from Morgan State University in 1986, a Master of Divinity degree from the Samuel Dewitt Proctor School of Theology at Virginia Union University in 1989, and a Doctor of Ministry degree from United Theological Seminary as a Dr. Samuel Dewitt Proctor and Dr. Charles E. Booth Fellow in 1995.
Dr. C. L. Easley has successfully pastored churches in Virginia, New York, and Pennsylvania. He is a man of vision and one who is always sensitive to the leading of God's Spirit. Therefore, in September of 2000, he founded and organized Open Door Christian Fellowship Church in York, Pennsylvania at a local community center. Dr. Easley pastored Open Door for eleven and a half years where he was committed to developing dynamic disciples of Christ. Dr. Easley exists to reach people with the life-giving message of Jesus that they might become fully-devoted followers of Christ.
In his 37 years of preaching the Gospel of Jesus Christ, Dr. Easley has preached all over the length and breath of the United States of America. He has also preached in Niagara Falls, Canada, Moscow and St. Petersburg, Russia and also in Ghana, Africa. He is a member of the National Baptist Convention, USA, Incorporated and is also an endorsed chaplain by that convention as well. Therefore, being led of God and being a man of strong faith, as Abraham was, he moved his family to North Carolina in the summer of 2007, to pursue new ministry opportunities and possibilities.
In addition to that, he has also studied preaching at the Oxford University's Regents Park College in Oxford, England in the summer of 2010. Dr. Easley also completed a year-long chaplain residency at the Carolinas Medical Center in Concord, North Carolina in September of 2011. He is also a member of the Association of Professional Chaplains and the North Carolina Chaplains Association. He is currently employed as a Staff Chaplain with Hospice of Union County in Monroe, North Carolina, where he provides end of life care to patients and families dealing with death and dying. As of April 2012, he was led of the Lord to fully relocate his focus and ministry to the Charlotte, North Carolina area. In January of 2013, Dr. Easley became a Board Certified Chaplain, certified by the Board of Chaplaincy, with the Association of Professional Chaplains, Incorporated. In the Spring of 2013, he and his family joined the New Life Baptist Church of Concord, North Carolina, where Dr. Tommy Steele is the Senior Pastor and Founder. In August 2013, Dr. Easley preached for the Pastors and Ministers Division in the Progressive National Baptist Convention, which was held in Detroit, Michigan. On October 26, 2013, he accepted the call to serve as the Pastor of Cross Road Baptist Church of Rock Hill, South Carolina. On Sunday, January 26, 2014, Dr. Easley was installed as the New Pastor of Cross Road. Also, Dr. Easley is a member of the E & M Baptist State Convention of South Carolina and the Sandy River Baptist Association. In November of 2015, Dr. Easley celebrated a monumental moment in his ministry, as he celebrated 30 years of preaching the Gospel of Jesus Christ! In 2021. Dr. Easley led Cross Road to pay off the church mortgage to become debt free. 
Dr. Easley is the proud father of four beautiful children, Brandon L. Brown, Rhema, Bethany, Isaiah, and one granddaughter, Mya Nicole. In addition to that, Dr. Easley is extremely grateful for the mentorship of Dr. David C. Forbes, Sr., who is his Pastor and who is like a father to him. Dr. Forbes is the Pastor Emeritus of the Christian Faith Baptist Church in Raleigh, North Carolina.